Hear From Real Masterpiece Clients Worldwide.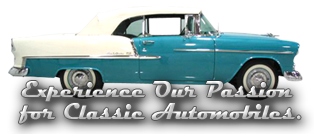 The customer experience is as important to Masterpiece and our success. Our every effort is directed at helping our many clients worldwide find their dream vehicles. Our classics are only top notch and our service strives to exceed your expectations. Below are some comments from our many customers.
"Greetings from Finland. Now we have recieved the Galaxie and we are very satisfied with it. Thank you for all, and good luck in the future with your company. "

-Bjarne and Ulla-May H., Kronoby, Finland 1959 Ford Galaxie

"Thanks for selling me the 69 Z28. I was nervous buying a car site unseen. Your recommendation for a mechanic to evaluate the car was spot on. The Camaro arrived as expected. The delivery driver was also a mechanic, and he loved the car. He spent 15min going over the car with me. The car is gorgeous and immaculate! I have already gotten multiple compliments about the Camaro. We finally got some nice weather and I can drive the Camaro. I am calling the car "The Blue Beast"! It is really fun and fast. It took me several rides to get used to the stiff clutch pedal. What a ride! Thanks again "

-Paul D., Erie PA 1969 Chevrolet Camaro Z28

"I just completed the purchase of a 41 Buick Century. Drove 250 miles to see it, and found the car 99% as described. Being an experienced collector (50+ cars) and Buick specialist and National Judge, that is a pretty amazing percentage. No disappointment AT ALL! Bought it on Monday, all paperwork was handled quickly and professionally, with delivery to my home by Friday. I was extremely well informed the whole way by email, phone and text. I don't even have a suggestion for anything to improve on this transaction. Having bought many cars, from many sources, the most refreshing part was the lack of pretention. No coats, ties, flowery descriptions, distractions, or silly promises. We were just two car guys, a seller and a buyer, letting the car speak for itself. I met many of the other staff as we closed the deal and all were the same, guys I would welcome any time in my shop to talk cars like they welcomed me into theirs. My only warning to potential visitors, leave your wife and/or girlfriend at home. Mine fell in love with an early Cutlass and I may have to go back sooner than I expected. Sighhhh. "

-Mark B, St. Louis MO 1941 Buick Century Fastback

"Mike, Just wanted to say thanks again for the easy process on the 71 VW Bus. We made it back last night. No issues at all. Cruised down the highway at 60-65. Drove 5 hrs Friday night. 5 more hours Saturday morning and then 5 more Saturday night. Perfect weather, great car, awesome memories. Have a good week"

-Brian P, Frisco, TX. 1971 VW Bus

"It has been two months to the day, since I took delivery of my '64 Studebaker. I am so happy to have her in my garage, in Albany, NY. My purchase experience with you and Masterpiece Vintage Cars was nothing short of "outstanding." As you know I am first time classic car buyer, and so I was very nervous purchasing a classic car sight unseen, some 1200 miles away in Indiana, and from a firm I had no previous knowledge of. Well, from the outset of my dealings with you, you made me feel comfortable talking to you. Thank you for patiently answering every one of my questions and for helping me understand every step of this process. You made it so easy! In summary the car (64 Studebaker Daytona) was exactly as you advertised and described to me. The photos on your website were spot on, absolutely no discrepancies with what was presented to me and then delivered to my home. The financials and transaction paperwork process went very smoothly and subsequently the registering and plating of my '64 Studebaker in New Your state took only 20 minutes. The shipment of new 'old classic car' to my home went perfectly. I do not have a single complaint. I could go on and on as to how pleased I am with my purchase of a classic Studebaker, however I have to get back to work. I will close by saying thank you so much for making my purchase such a smooth and great experience. I find myself looking at your website every day, looking to purchase another classic car from you. I have the classic car collectors bug, and you are the reason for it."

-Brian Gabriel, Albany, NY. 1964 Studebaker Daytona

"My total purchase experience with Masterpiece Vintage Cars was nothing short of perfect from start to finish. From my initial contact, to the negotiations, to the coordination of the inspection and finally the assistance in shipping, was flawless! On top of that, the car is EVERYTHING it was represented to be! I am a very satisfied customer and hope to purchase another vehicle from Masterpiece in the future."

-Buddy Holt, Greenville, NC. 1969 Plymouth GTX

I just want to thank you and the crew there @ Masterpiece Vintage Cars. The entire transaction from start to finish was flawless. You can use me for a reference anytime. It is really nice to be treated the way I treat my customers. We will do business again. Thank you for the honest description of the 63 Riviera."
-Al.

"I just want to thank you and your staff on the purchase of the vehicle. The trip back was very good everything went well. The car was everything you said it was. If you ever need a reference feel free to use my name When you come into the city please give me a call lunch is on me.

Again thank you and your helpful staff."
-Tom U.
Pennsylvania


"For people wanting a classic or super clean low-miler ….let us say this, every car that we saw in your showroom was absolutely fabulous ..the detail that is put into the cars you sell is unreal. Great folks, professional and honest.
Your web page says …"treat people right and everybody wins", we feel you really did this and treated us like family.
We are truly happy with the folks at Masterpiece and the anniversary surprise."
-Tim & Angie W.
Indiana


"Arrived in Switzerland, and I am very happy! I never thought I would get such a nice car and we will do business again with Masterpiece. Thank you very much indeed! I 'll keep in touch and send you more pics. it was a good time, you know I will miss it... kind regards"
- Klaus
Switzerland

"

Thank You! Kristy I was so surprised to receive the car (two days earlier) than expected! The entire transaction was first class all the way, and you were absolutely right about Eric at Beacon Shipping Logistics. He and his crew were very effecient. To top it off, the drivers were actuallly pleasant after travelling across the country, just to get my car to me!

Most importantly, I must express my gratitude to the stars at Masterpiece Vintage Cars! Dan Wilhelm treated me like a "friend"; and that's something that is becoming extinct in the business world. Now to you Ms. Holland, I must confess that you were the most instrumental in giving me the confidence to proceed in such a deal with a company and people that I did not know anything about. You facilitated this long distance operation with the highest level of professionalism and expertise, which gave me the most valuable element of all "trust"! I am completely satisfied, and I recommend you all, highly to anyone looking for their dream car. It was all handled in the finest style!!

"


- Randy H.

" Awesome buying experience ."
- Jason V.
Ohio

"Thanks the Super Snake is a great car."
- Dean M.
Ohio

" Absolutely a smooth transaction! Car 100% as described! Great People! "

- Ryan C.

Delaware
Our staff's objective is for you to have a positive experience. We treat all inquiries the same - treating all people with respect and utilizing the old fashioned art of listening...