Serving Our Clients Well Throughout the World–

<

Providing The Finest Classic Autos

We want our clients to think about the good old days when they got their car. We run an energetic operation filled with comforts that will make you enjoy your Masterpiece Vintage Car experience…. and we treat you like we want to be treated – Honest, fair and with respect. Some of the many services we offer are the following:
Straight Forward Approach:

We aren't here to haggle with or mislead our customers. We work hard to get our clients the right classic for them, without playing games. We are looking for serious collectors.



Climate Controlled Storage:

Our building is completely climate controlled for the safest storage of our inventory and our consignments.



Detailing:

Each vintage vehicle that comes through our doors undergoes a thorough detailing – both exterior and interior. When our classics hit the showroom, they are looking their best.



Shipping:

All clients receive the red carpet treatment. We'll help arrange and take care of your classic's shipping to our facility, and make sure it gets delivered safely to the purchaser. We ship both domestically and internationally.



Consignment Program:

We offer a competitive consignment program, but are only looking for the best classic cars and motorcycles out there. Contact us to learn more about all this program offers.



24-Hour Security:

Your treasured classic will be safe
in our completely secure facility.
Whatever your passions are, we want to help you find your fine classic at Masterpiece Vintage Cars. We all need to enjoy the road a little more!
"Find Your Classics"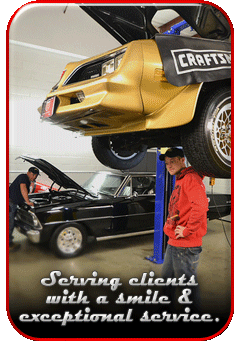 ""Wow, what a beautiful showroom. We come to Indianapolis every year for the 500 and will tell all our friends this is a must see stop."."
- Adam P.
Michigan