If you are going to do something, do it the right way. This philosophy has served us well as we developed our business model. We treat classic car enthusiasts the way we want to be treated ourselves.
We bring decades of business experience and love of fine classic automobiles to Masterpiece Vintage Cars. Our focus on every little detail flows down throughout the organization and the classics cars we offer.
Masterpiece Vintage Cars new state of the art facility is here to serve our clients in a relaxing and pleasant environment, filled with the finest classic cars. We have an old fashioned 'drive-in' waiting area, big screen movies and a retro cafe for relaxing and being comfortable. Let the experience take you back in time to when Automobiles were considered a work of art and memories of driving that first car will never fade.
Masterpiece Vintage Cars is located 15 minutes south of Indianapolis, Indiana, our location is convenient and easy to find so stop by and take a look at our latest inventory. Stock is always moving and we are continually looking for the best available classics to house here. We offer a wide selection of classics to choose from, and offer only the best through our consignment program.

"Our passion is fine classic automobiles"
Some reasons to visit Masterpiece Vintage Cars:
State of the art facility featuring a large selection of classics cars

Old-style customer lounge, pinball machine, juke box
and wi-fi

Big screen TV with cool,
classic movies

An energetic environment and helpful, knowledgable staff

Check it out now!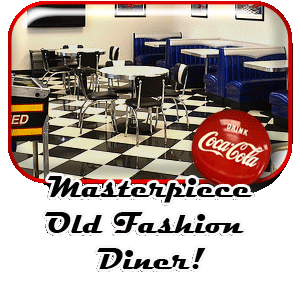 "The built-in diner with fresh popcorn was the highlight of the visit for the kids. We all had a great time."
- Julie P.
Indiana